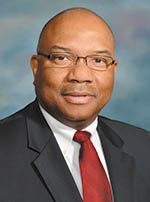 Jackson - West Tennessee Healthcare is pleased to announce James Ross as its President & Chief Executive Officer. The West Tennessee Healthcare Board of Trustees voted to approve Ross during its May board meeting. Ross has been serving as Interim President & Chief Executive Officer since April 2016.
James "JR" Ross joined West Tennessee Healthcare in 1985 as a registered nurse in the surgical intensive care unit. Throughout his career with the health system, he has held various positions including, Critical Care Coordinator, Cardiac Services Manager, Director of CCU, Administrator of the West Tennessee Surgery Center, Executive Director of Physician Services, Director of Case Management/Social Services as well as Vice President of Hospital Services. In 2009, Ross was named Chief Operating Officer for West Tennessee Healthcare.
A native of Henderson, Tennessee, Ross is the son of the late Bradie and Mary Ann Ross. He has been active with numerous community and civic organizations. He serves on the Executive Board of the West Tennessee Council for Boy Scouts of America, Jackson Airport Authority, Union University Foundation and he is the Second Vice Chairman on the Jackson Chamber Board of Directors. In 2014, Governor Bill Haslam appointed Ross to the Emergency Medical Services Board of Directors for the State of Tennessee. He has formerly served as a member of the Union University Board of Directors and served on the search committee to hire President Dub Oliver. In 2015, Ross served as the NAACP's 2015 Freedom Fund Honorary Co- Chair.
James Ross is a member of the One Jackson Action Committee, Tennessee Hospital Association Diversity Council, 100 Black Men of West Tennessee, and Madison County Board of Health. He attends Englewood Baptist Church and serves as Chair of the Personnel Committee and has previously served on the Strategic Planning Committee. In 2016, the American Red Cross honored Ross with the Humanitarian of the Year Award.
Ross is also active with many professional organizations including, the Tennessee Hospital Association, Tennessee Organization of Nurse Executives (TONE), American Nurses Association (ANA), American College of Healthcare Executives (ACHE) and Leadership Jackson Alumni Association.
Ross says he is honored with his new role.
Ross has an Associate of Science degree from Jackson State Community College, a Bachelor of Science degree in Nursing from Union University, a Master of Science in Health Services Administration from the University of Alabama at Birmingham, and is a Licensed Registered Nurse and a Licensed Nursing Home Administrator as well as an Emergency Medical Technician by the State of Tennessee.
JR and his wife Cindy have two children, Ashley and Kelsey and two grandchildren, Weston and Maddie Kate.